4th day at my dads.. since it feels rlli weird to write my blogs in german i start writing in english agen <3
da past days were fuckin boring!
ive bn to my old hometown n nothin much changed... well theres a H&M now tho =S a pretti small one...
thuan left today T.T dono wot to do nemo.. aaah im bored to death!!!
FROHE OSTERN btw..
my dad is so mean!!! he gave thuan 50€ on saturday n today 50€ agen! omg hes only my bf! i need money too T.T
thinkin bout going to SB tomorro, the capital of "saarland".. shopping there is almost exactly like in muniq..[nur dass es alle lädn nich mehrmals oda in mehreren versionen gibt lol]

thuan already left today cuz he has to b baq at work by tomorro~
ill leave on wednesday i guess =S
but i need to make sum money till then...
me vor so nem schloss oda sowas.. ich weiss auch nich genau auf jedn fall wars irgendwas von maximilian dem 1. bla bla bla..
ich will meine haare doch nich heller färbn.. ich find meine haarfarbe auch so irgendwie schon kumisch =S ich mach sie wenn dann glaub ich eher dunkler, vlt sogar wieda blaq.. lez c
left pic : wooh nice dress <3
right pic : gooosh i LuFF the whole outfit!!! especially the hoody n da shoezz <3
i dyed my hair today... the colour looks HoRriBLe!!!!! F*CK i dun even wanna look in the mirror nemo!i think ill go to a hairdresser when im baq in muniq! wanna dye them dark brown or black an i rlly need a cut!
aaaaaaaaaaahhhhhhhhhhhhhhh i look so uglyyyy T.T
"was macht das leben für einen sinn wenn man nicht schön ist?" [zitat aus -das wandelnde schloss-]
naja ich war eh noch nie schön... T.T ...lolz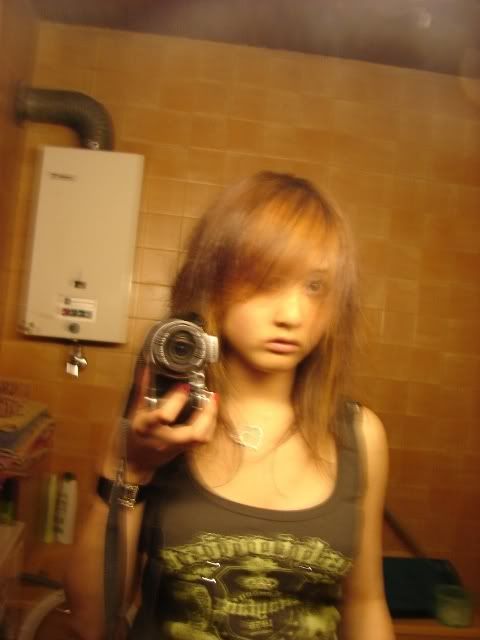 ich könnt heulen....